Consider something as seemingly innocuous as a web form to download an eBook.
You should ensure that any information collected is truly required and collect as little information as possible to complete the request. Additionally, consider informing the user how their data will be stored, managed and processed – and offer users the opportunity to limit any such processing.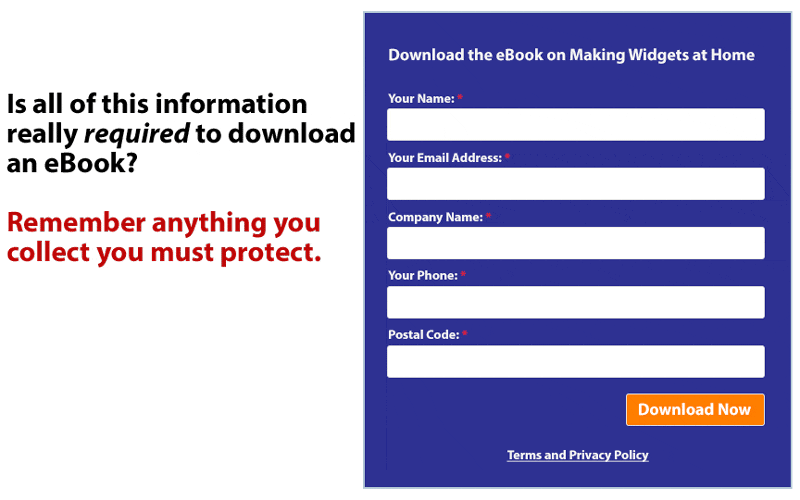 (The form in this example was found on a live UK website in November 2017. The details have been changed to shield the source.)
The consequences of failing to comply with GDPR
GDPR expands an individuals rights regarding their data and codifies the right of data subjects to file class action lawsuits.
Additionally, GDPR can levy fines up to €20million or 4% of global turnover – whichever is greater – for each failure to comply with GPDR.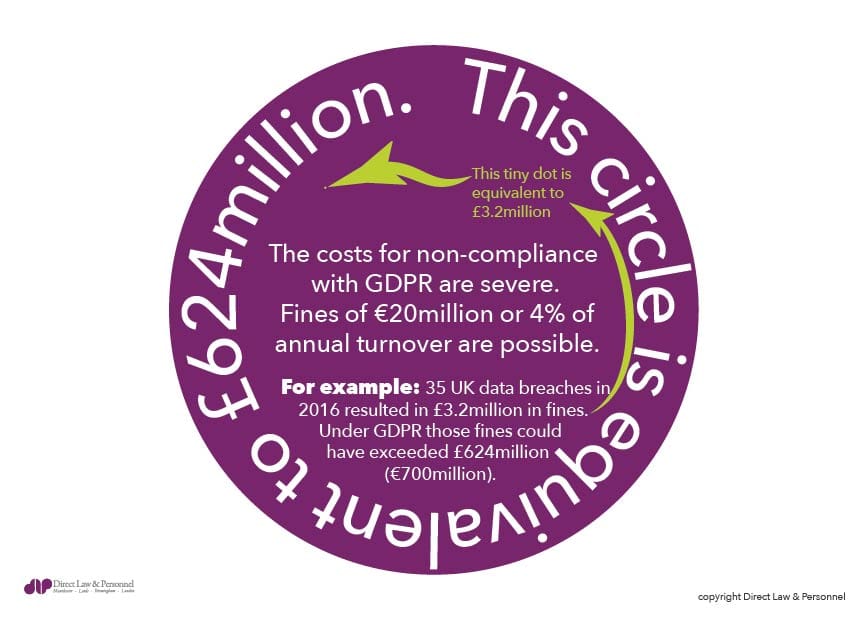 For example, in 2016, 35
data breaches
in the UK resulted in combined fines of £3,200,000. Had those
data breaches
been subject to GDPR the penalties could have exceeded £624,000,000 (€700M).
We use Cognito Forms to facilitate automation on our website. By submitting this form, you acknowledge that your information will be transferred to Cognito Forms for processing. Learn more about Cognito Form's privacy practices here. Read DLP's Privacy Notice.
8 Steps for GDPR Compliance
Preparing for GDPR requires an investment of time and capital and on-going vigilance in data management. An outline of a method to achieve GDPR compliance is below.
1. Raise internal awareness
Begin discussing GDPR and make employees aware of potential changes to data processing.
2. Conduct data mapping
Assess current data collection, retention, storage and processing procedures and policies.
3. Prioritize shortfalls
Evaluate compliance shortfalls and create a prioritised list of items to correct.
4. Conduct gap analysis
Evaluate current data processes against GDPR and document shortcomings and necessary policy changes.
5. Create a remediation plan
Update existing and implement new policies and procedures to bring data handling into compliance.
6. Conduct remedial actions
Implement necessary procedural and technological changes including deleting unneeded data.
7. Conduct training
Conduct training with anyone who comes in contact with data, or manages contractors who manage or process personal data.
8. Continuously monitor
Continuously monitor data collection, storage and processing to ensure continued compliance.
Summary
Compliance with GDPR can seem very daunting. However, with expert insight, a thoughtful and thorough review, and a careful plan, your business can meet the requirements of the General Data Protection Regulations Act.
DLP recognises the substantial impact GDPR will have on businesses in the UK. Our team is trained and ready to help you meet the demands of the GDPR.
Should you have any questions feel free to reach out to our help line. DLP advisors are available to answer any questions you may have at
0330 400 4495.
References: EU Data Protection page
Download a copy of the General Data Protection Regulations
Request a complimentary GDPR consultation
Only Name and Email address are required. Additional information will help us assign the appropriate DLP Advisor for your consultation. Your information will be sent to our DLP Advisors and used only to contact you regarding your request. Your data will be stored in our secure CRM system and not shared with any third parties.